Staying in your own home can become especially important in later life.
You might want to stay close to family, friends or even your workplace, or just hold onto all the memories you've built up there.

But it isn't always easy to get mortgages for older borrowers and mortgages for retirees.
Lenders worry that you might have less time to pay off your loan or that your income might drop in retirement.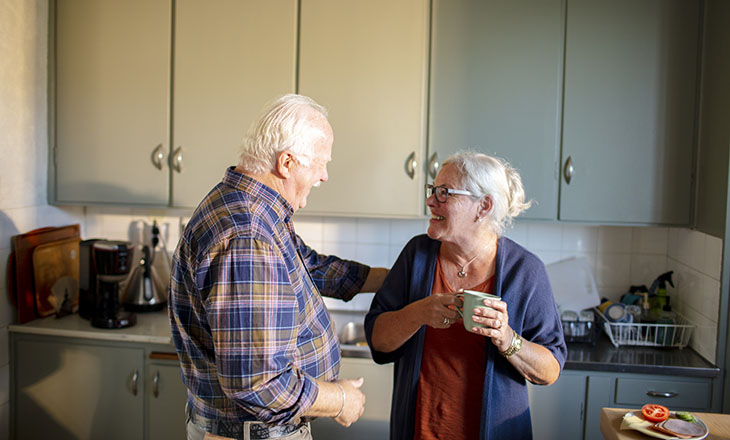 Can I get a mortgage over 60?
Yes, there are mortgages for people over 60. There are even mortgages for over 65s and beyond! But many people find it difficult to extend standard mortgages into retirement.
Lenders will often need to know how you're funding or planning to fund your retirement. They'll check that you're doing more than just relying on the State Pension. That'll help them make sure you can afford your mortgage payments. You might have to share your pension statements or proof of any other income sources, like investments or property rentals.
But on the plus side, over 55 mortgages will open up for you. They're designed specifically for people who are near or in retirement.
What are my mortgage options in retirement?
If you're near retirement or already retired, later life mortgages are an alternative to a standard mortgage that might be right for you. You need to be aged 55 plus to take one out. It's a lot like a standard mortgage – it's a type of equity release that lets you borrow money based on your home's value.
But unlike a standard mortgage, a later life mortgage will usually be paid off by the sale of your home after you die or move into full-time care. So the size of your pension pot or the amount of retirement income you'll get is less of an issue when you apply for one.
Why take out a later life mortgage?
A later life mortgage can make a big difference to your life – as one did for our customer Robert:
This kind of mortgage can be very helpful if:
your interest-only mortgage is ending, but you don't want to sell your home and downsize to pay it off
the value of your property:

has gone up over the years and you want to pull some of that equity out of it
might keep going up, letting you release more money from it in future

you want to live in your home for now, but have the flexibility to:

move out or downsize at some future point
make any future age-related adaptations you might need
cover the cost of possible future care needs

you want to both:

borrow money against your home
never owe more than it ends up selling for
Once you've paid off your previous mortgage, the rest of your over 55 mortgage money can cover expenses like:
looking after your home

general maintenance and upkeep
making sure it still meets your needs as you age

maintaining your retirement income and covering any care costs
any other debts you might have
gifting money to family while you're still around to enjoy it
There are some potential downsides to bear in mind, though. Payments from mortgages for retired and soon-to-retire people can affect means-tested benefits. If you gift money, under certain circumstances the recipient might have to pay inheritance tax. You can learn more about that on our inheritance tax page.
And you need to be sure that:
you choose the right product for you
your choice fits in with your broader retirement plans
there aren't any cheaper ways you can borrow money.
That's why you can only take later life mortgages out through a qualified financial adviser.
Not sure if equity release is right for you?
There's plenty to consider when it comes to taking out a later life mortgage. Our article answers common questions to help you in your decision making.
What kind of later life mortgage can I take out?
There are two types of mortgages for over 55s available. Like any mortgage, they're loans taken out against your home. They are:
Retirement Interest Only Mortgage
A Retirement Interest Only (RIO) Mortgage can give over 55s lower monthly payments than a standard mortgage. Your provider will just ask for fixed monthly interest payments. Remember that, as a last resort, they could repossess your home if you don't keep up with your payments.
Our RIO Mortgage affordability calculator will give you an idea of how much you could borrow.
Lifetime Mortgage
A traditional lifetime mortgage gives over 55s the choice of making some, all or no monthly interest payments at all. Instead your provider will add your interest payments to your loan. Bear in mind that your loan can then grow quickly over time. If you're a joint borrower where one of you is still working, and you're both over 50, you could consider a Payment Term Lifetime Mortgage. One of you will need to be in some kind of employment, and you will need to make monthly interest repayments for an agreed period.
You can find out much you could release with our Lifetime Mortgage calculator.
What's next?
Taking out a later life mortgage is an important decision. We've linked to our RIO and Lifetime Mortgage calculators above. They'll give you an idea of how much you could borrow.
Once you've done your basic research, you'll need to speak to a financial adviser. That's because you can't take out a later life mortgage without one. If you don't already have a financial adviser, you can find one at the Unbiased website.
And if you end up taking out a RIO or lifetime mortgage, we hope it goes as well for you as it did for Robert. As he told us in our video: "I have no regrets, it's been brilliant. Why move and make new neighbours and change my place of work when I can stay?"